Hey Wingus and Dingus! 
We're incredibly excited to announce the release of our brand new, already-triple-platinum multi-universal smash sophomore recording, MUSICALLY & MORALLY BANKRUPT.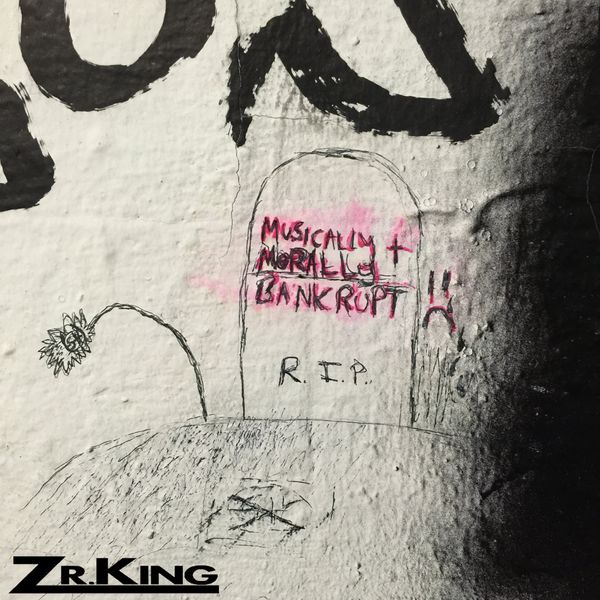 Now available on Spotify, iTunes, Pandora, SoundCloud, and all the other streaming platforms you can shake a stick at.  Tune in for an unparalleled listening experience.  See our take below: 
The latest Zr. King release, Musically & Morally Bankrupt, is a particularly exciting collection given the songs are some of the first the band ever wrote together. There's a stripped down brashness here that is a testament to their songwriting history and notoriously ferocious live shows. 
The band again collaborated with legendary producer/engineer Jerry Ramos (owner of Mercury Recording Studio in Rahway, NJ), cultivating a razor sharp attack that arms this rock outfit with a bloodthirstiness known only to ancient Greek infantry divisions, extinct carnivorous dinosaurs, and the largest of great white sharks. 
Zr. King's sound is frequently described as akin to a melodic jet engine chewing up geese as it screams through the sky. Please direct your attention to the front of the cabin for an important briefing: this aircraft has no emergency exits, no seatbelts, and runs exclusively on a haunted mix of whiskey, adrenaline, charcuterie, and mammoth quantities of Du Pont Straight and Du Pont Red Cross. Twin 120DB turbo engines function at dual speeds; thrill & kill. The sonic collision of all these elements yields a powder keg that can turn on a dime or erupt into a seismic inferno at any second. Did you know if you mix equal parts Zr. King and frozen orange juice concentrate you can make napalm?  If you didn't, it's time you found out. 
You can also get a physical copy over there on ZRK Central.  Do it to do it!! 
Huge thanks to those of you who rocked out with us at Arlene's Grocery NYC for the album release last night.  We love you one and all. 
❤ 
Zr. King 
IN ROCK WE TRUST