Hiya Palbert!
We're t minus one week from our upcoming show at Bowery Electric with our esteemed comrades in rock, Tigerman!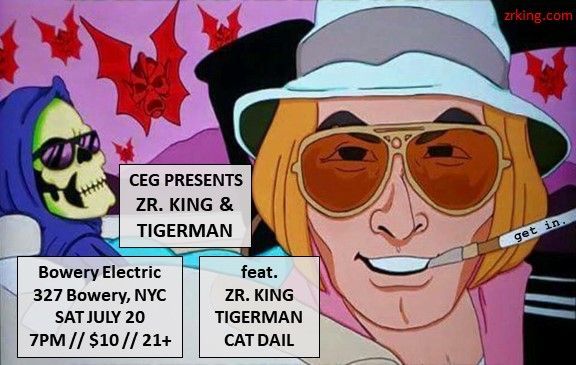 CEG Presents 
Tigerman with Zr. King, Cat Dail & The Big Sip 
The Bowery Electric 
Sat Jul 20 2019 
6:30 PM Doors 
7:00 PM Show 
$ 10.00 / Age 21 And Up 
Tickets: 
https://www.ticketweb.com/event/tigerman-zr-king-the-bowery-electric-tickets/9307835?REFERRAL_ID=twfb
Super pumped to be rocking out with these cool cats!!!  SEE YOU THERE!  DO IT TO IT!
❤  
Zr. King  
IN ROCK WE TRUST