Salutations, comrades and desperadoes!
The starship grouperfish that is Zr. King is firing on all cylinders here, we're cranking out rock'n'roll at a pace that'd make Henry Ford blush. T-Shirts are in – order yours today! We've got people already rockin' em in Washington State, Massachusetts, Florida, Chicago, and of course for the baddest mofos low down around this town: East Village NYC!
Claudia did a custom custom for hers – want one like it? Hit us up and we'll arrange it!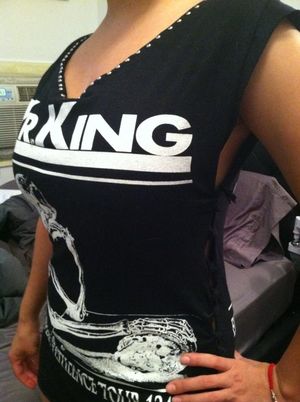 A new sticker design is on the way – 4x4s of the Rocktometrist. Get yer vision checked and your eardrums wrecked. We got demos streaming below and on our media page. We shot a live video last week and are working through editing it. Keep your eyes out!
Our launch show is almost secured, we're looking at early August. Keep you posted!
And we'll leave you with a quote:
"Some people might be like, 'Killed By Death' – that's stupid. I'm like: No, you're stupid." Scott Ian from Anthrax, on Motörhead.
Yours in controlled madness,
ZrK